10.11.2021News
Studio Ongarato receives top honours at 2021 SEGD Global Design Awards for 447 Collins & Western Australian Museum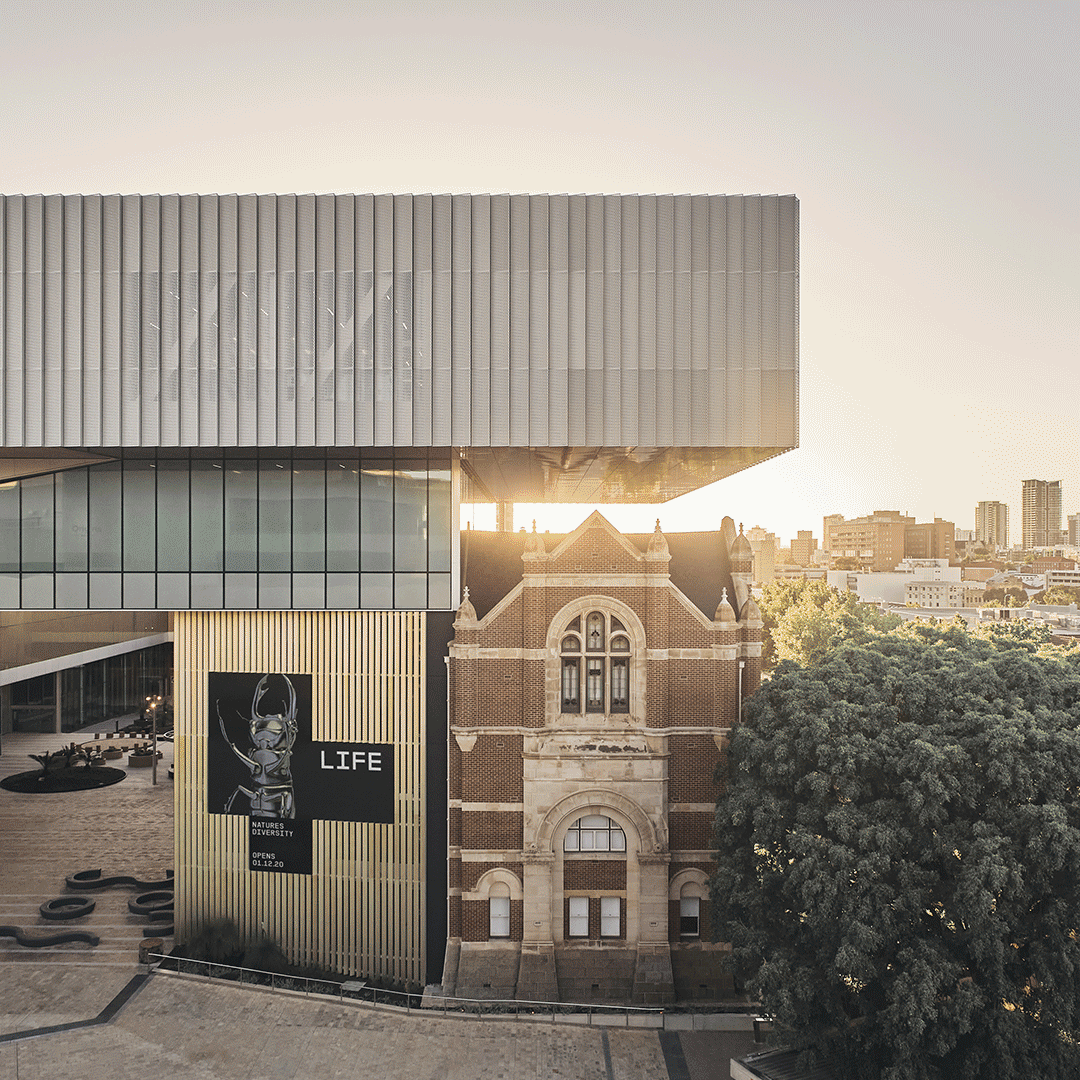 Studio Ongarato's experiential graphic design expertise has been acknowledged internationally at the SEGD Global Design Awards, receiving Top Honor Awards for the Western Australian Art Museum and Collins Arch.
Since 1987, the SEGD Global Design Awards have set the standard of excellence for experiential graphic design worldwide; honouring and recognising design work that connects people to place by providing direction, content, and compelling experiences in public spaces.
Ronnen Goren, Studio Ongarato co-founder and strategy director, says the SEGD Global Design Awards are a wonderful recognition of the studio's pioneering approach to experiential graphic design.
"We are very proud to have our work recognised once again at the highest level by the SEGD Global Design Awards. For over 25 years we have championed experiences designed to connect people to place and to have two significant Australian projects acknowledged on the global stage is a gratifying acknowledgement," Goren said.
The studio was also awarded with Top Honors in 2019 for Arup Melbourne's Workplace in the Wayfinding category and a Merit Award for Jackalope Hotel in the Placemaking & Identity category.
Western Australian Museum
Honor Award
Wayfinding – Museums category
The new Western Australian Museum designed by Hassell + OMA, was conceived as an 'activated' museum housing a collection of stories showcasing the state's rich cultural heritage. The ability for signage to assist in story telling underpins Studio Ongarato's wayfinding strategy to guide visitors through the museums spaces and explore the collections.
The creative theme and conceptual notion of 'Sample' underpins the approach to signage forms and information through a range of dynamic signage display technology, including flip-dots, three-sided prisms and high-res LCD screens. By sampling past and present technologies, the wayfinding experience is activated through sound and vision. The high-res LCD screens display digitally scanned 'samples' of various specimens from the museum's collection, slowly rotating and revealing their unique qualities in three dimensions
Collins Arch
Honor Award
Wayfinding – Urban & Civic category.
Responding to the cohesive and refined material palette of the building's design by SHoP Architects and Woods Bagot, Studio Ongarato's design thematic 'citivas,' amalgamates the site's commercial and residential facilities including; W Hotel Melbourne, commercial office space, retail and dining offer as well as 2000m² of public open space. 
The custom-designed three-dimensional street numbers become both sculptures and signifiers, contributing to a sense of place and reinforcing intuitive orientation. Corbelled concrete totems with inlaid bronze text create a language of external public wayfinding elements, reinforcing the architectural legacy and contributing to the sense of a new civic precinct. Within the commercial and residential towers, a series of floating wayfinding signage adds a layer of considered design detail to the interiors.
Project Collaborators
Western Australian Museum
Architecture: Hassell+OMA
Photographer: Peter Bennetts
Collins Arch
Architecture: Woods Bagot, SHoP Architects
Landscape: Oculus
Photographer: Peter Bennetts