28.08.2018News
W Brisbane imbued with a uniquely Queensland identity
Studio Ongarato has created four Brisbane-inspired sub-narratives for W Brisbane, the first 5-star hotel to open in Queensland's capital in more than 20 years.
The project is the latest in a string of engagements with the W brand for Studio Ongarato, with last year's W Shanghai exemplifying the design studio's ability to communicate W's unique brand of playful luxury.
Studio co-founder Fabio Ongarato says that creating immersive environmental design narratives, as at W Brisbane, is an emerging trend in the hotel and hospitality space.
"Our first narrative-led hotel was for the W Hong Kong back in 2010. Using narrative at that time was uncommon. It successfully injected greater vibrancy into the brand and rewrote the rulebook for narrative-led hotel design. It also successfully set the tone for all the W hotels since."
"It's important for design to tell meaningful stories that customers, users and guests can respond to. Defining and building a thematic framework is the first step for holistic and narrative-driven design to take shape," Ongarato says.
"A brand foundation enhances a guest's experience by encouraging them to become more aware and engaged with their environment. It offers a world within a world for experience hunters but ultimately it aims to engage, delight and transport."
"Studio Ongarato's engagement with W Brisbane strengthens the design studio's relationship with a truly international brand, showcasing our ability to interpret myriad social and cultural contexts as design outcomes, imbuing the W brand with a sense of place and personality," says studio co-founder, Ronnen Goren.
W Brisbane's overarching theme A River Dreaming, developed by Nic Graham and Associates, pays respect to the Dreaming of the Turrbal people who see the river as the giver of life. A great snake making its way from the mountains through floodplains to the sea. In the serpent's wake, a thriving and unique city has risen. One with a distinctive Australian character.
"For W Brisbane we looked at the W brand DNA, which is bold, witty and shows a lust for life. And we studied the context of the site – its physical, social and historical parameters," says Ongarato.
Combining brand DNA, site context and the overarching river theme allowed Studio Ongarato to come up with four sub-narratives: Native Allure, Tropical Eden, Brisvegas and Dark Paradise. The resulting interplay of ideas creates a tribal meets pop hybrid personality that electrifies in its many incarnations.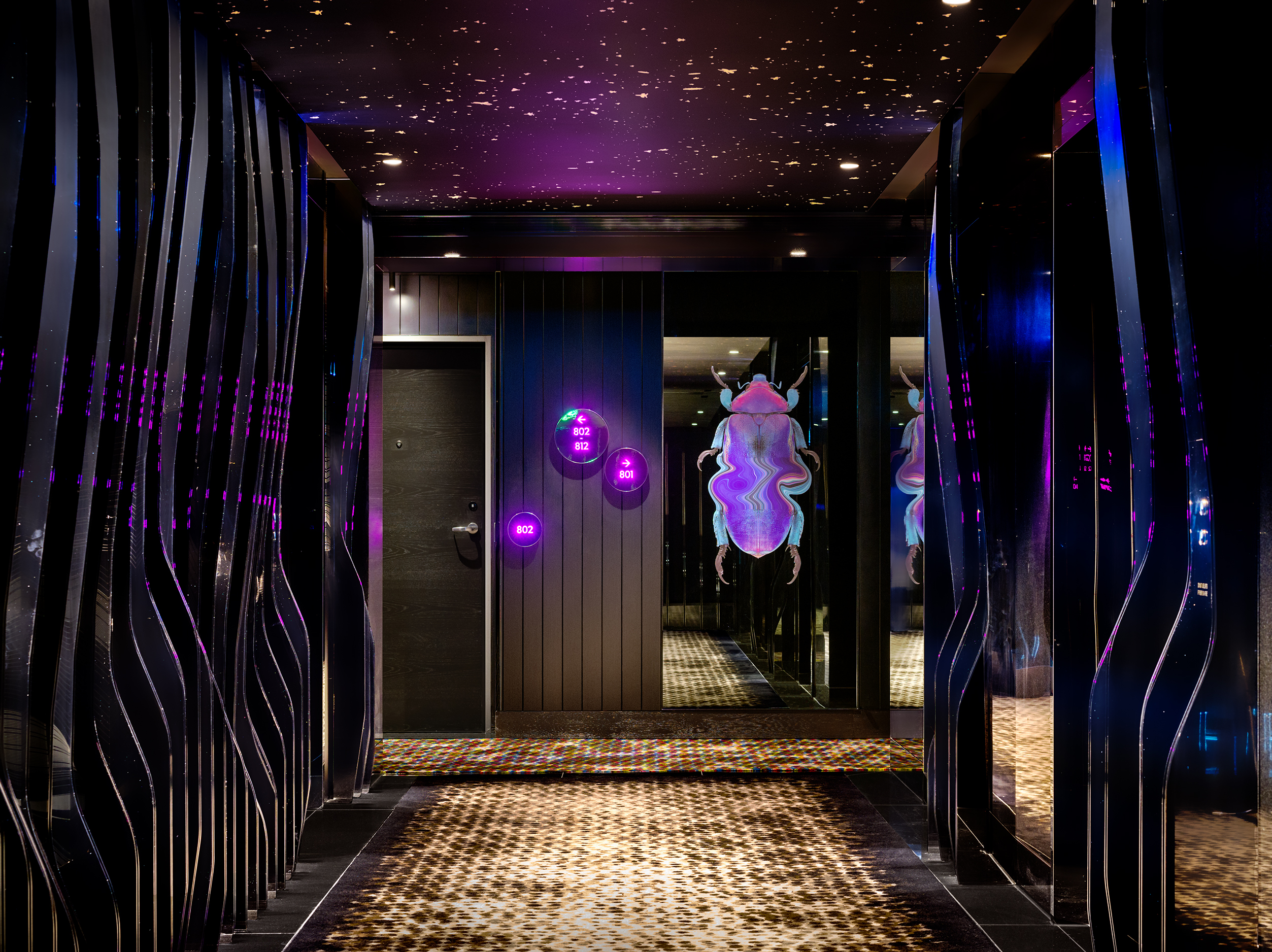 "We looked carefully at many aspects of the Brisbane identity to create our themes," Ongarato says.
"Taking ownership of that originally derogative nickname Brisvegas, Brisbanites are celebrating their tongue-in-cheek persona. From giant fruit landmarks to slogans, slang, stubby shorts and caftans, we deeply absorbed the Queensland vernacular to create our design narratives."